Training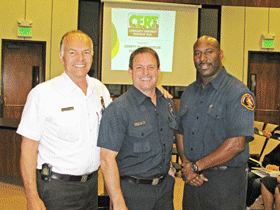 In addition to educating people in disaster preparedness, the CERT concept is intended to train citizens to provide additional support resources during large-scale situations and to also provide non-critical support functions during non-emergency situations. CERT Members must undergo the classroom-delivered CERT Basic Training. This CERT Basic Training is presented in a hands-on fashion and is delivered by first responders and subject matter experts who have the requisite knowledge and skills to instruct the sessions. Training topics are:
DISASTER PREPAREDNESS:
This session addresses hazards to which people are vulnerable in their community and actions that participants and their families should take before, during, and after a disaster. During this part of the training, instructors begin to explore the expanded response role for civilians in that they should begin to consider themselves disaster workers and disaster survivors, not victims.
FIRE SAFETY/SUPPRESSION: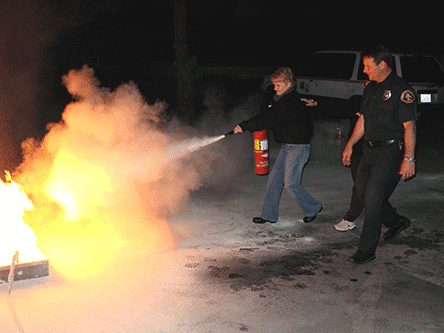 This part of the training covers fire chemistry, hazardous materials, fire hazards and fire suppression strategies. This session covers the safe use of fire extinguishers, how to appropriately size up situations, controlling utilities and extinguishing small fires.
DISASTER MEDICAL OPERATIONS, Part 1:
During this session participants practice diagnosing and treating airway obstructions, bleeding and shock by using simple triage and rapid treatment techniques.
DISASTER MEDICAL OPERATIONS, Part 2:
In this session participants learn how to establish a medical treatment area, evaluate patients by using a head to toe assessment, perform basic first aid, and practice these methods in a safe and sanitary manner.
LIGHT SEARCH AND RESCUE OPERATIONS:
During this part of the training participants learn about search and rescue planning, size-up, search techniques, rescue techniques, and most important, rescuer safety.
TEAM ORGANIZATION & DISASTER PSYCHOLOGY:
This session addresses CERT organization, CERT management and responsibilities, CERT principles and the need for documentation. It covers signs and symptoms that might be experienced by both the disaster victim and worker and how to handle the psychological impact of disaster.
TERRORISM:
In this session, participants learn what terrorism is and the necessary actions to take following a suspected terrorist attack.
COURSE REVIEW AND DISASTER SIMULATION:
At the culmination of CERT Basic Training, participants review their answers from a take home examination and finally, practice the skills that they have learned during the previous sessions in a disaster drill/exercise activity.
To view CERT Basic Training materials consult the Training Materials section of the Emergency Resources page.
The next class available to Lomita residents is linked to above (note if the link refers to a previous training course, there is no currently planned course).